Child and Newborn Photographer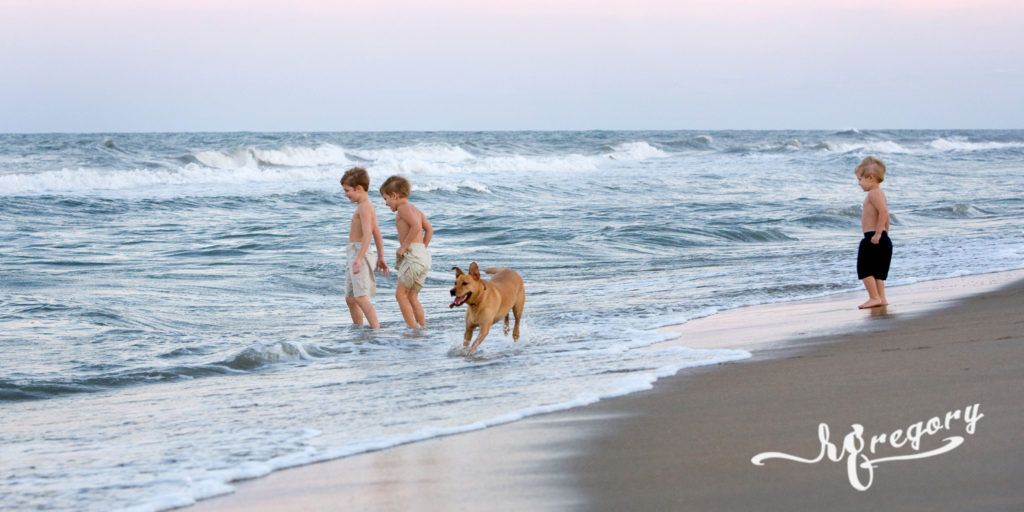 We love creating beautiful images that show the love and fun of families on vacation in Virginia Beach and Sandbridge Beach. We often provide photography for family reunions, anniversaries, engagements, or birthdays. Our commitment is to create professional photography to preserve your family's memories. We understand how important it is to have keepsakes of the wonderful moments shared between you and your loved ones.
Sesssion Fee: $125 This unlimited photography session fee covers groups under 30 people.
The session fee is for my time, talent and in many cases for my assistant. It does not include any prints or products. Each session includes a pre-shoot phone consultation, where we will discuss the details of your session, and studio gallery portrait selection appointment where you can make your ordering decisions. I do not require a minimum purchase; individual prints start at $50 and print collections start at $299. I also offer a digital collection which includes the session fee and up to 20 of your favorite images – delivered in the Regency Finish with a resolution that will print up to an 8x10. The creative fee is non-refundable, however, should you need to reschedule due to illness or an emergency, please contact me as soon as possible.
Family Beach Portrait Sessions are scheduled early in the week so you can see the images and make your selections before your vacation ends. Our photography sessions are usually scheduled during the last 90 minutes of sunlight in the evening (Often 7:00pm, the golden hour!). This time of day renders beautiful, warm colors on faces and an ocean that is truly blue: it's gorgeous! This timing also ensures we don't cut into your daily activities while you're on vacation.
We provide a large variety of images that are both casually posed and candid. We generally take photographs of the extended family first, then individual families and children. We move quickly with a fun pace to keep the children entertained and to maximize happiness for everyone. We often end the session with candids of varying groups. Our family groupings are created from your wishes along with the creative spontaneity of the evening. This generates a relaxed and fun event for all! You're welcome to make as many requests for different groupings or candid moments as light permits!
The images are ready for your selection appointment the following day. We do require that you view the images and place your order before leaving town. Watching your family show is entertaining and heartwarming. We will show you variations in Black and White, Color and Sepia. Our special software also allows us to show you images in exact sizes for wall portraits, gift portraits, and more. Often moms request that there be an expression change on one or two family members between poses so that everyone can look their best in one picture. (We are experts in this!) Ordering appointments are generally scheduled at 4pm. Most families have found that afternoons, between the beach and dinner time, work the best. You will have an opportunity to place your print order at this time. Your order is generally shipped approximately 8 to 10 weeks later.
To get an idea of what your session will be like, how we finish prints, and who we are, please view our video on YouTube: http://youtu.be/dDeMD4eRysM 
Your satisfaction is always guaranteed. Our job is to provide you with amazing images of your family that you will enjoy for many years. It's important that you love your photographs and they bring joy to your life.
Have you had portraits of past generations given to you?  It is a part of who you are and the legacy of your family line.  It is also about heartwarming memories you have shared together.  The portraits you create with our studio will be the keepsakes you hand down to your children and their children. A beautiful portrait can be small or large. What is important is its ability to tell a story that is personal and meaningful to you.
We are a studio that is based on the creation and production of beautiful images.  It is a complete piece of art.  There are many steps to the process.  We take great care to handle each part of the process to give you the best quality.  We want you wowed when you hold the final creations in your hands!
How will you keep and view these professional Portraits?  Archival permanence needs to be strongly considered to insure you can enjoy your images for decades to come. This may sound counter intuitive to current thought, but beautifully created photographs are safest when they are in your hands instead of on a disc. Consider that the storage and management of digital files will increase dramatically every year for images that you are not enjoying.  Thousands of images in dozens of folders stored across various machines and cloud platforms makes losing digital files a hard reality. Technology will change and you will need to update and change the formats of your existing files in the future, too. We are dedicated to physical images becauses digital images are easily lost, buried, corrupted or outdated. We have a commitment to your portrait permanence and that is why we put the final prints into your hands!