Spring Animal Special 2016!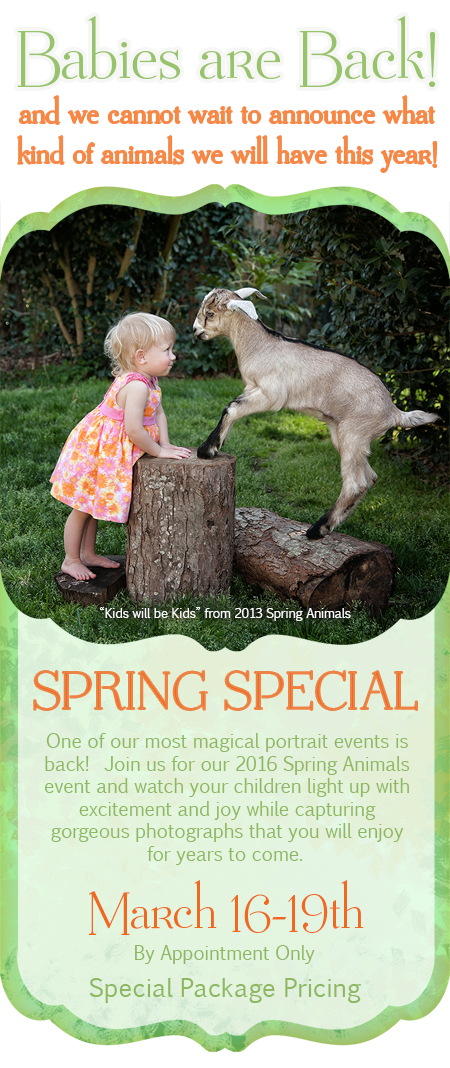 We are just giddy with excitement and anticipation for our 2016 Spring Animals Special! We do not yet know what kind of adorable little creatures we will have this year (since they haven't been born yet!) but we do know how how much joy these session have brought to the children that have joined us in past years. We cannot wait to do it all over again!
Session are limited and will only be available March 16-19th by appointment, however you do NOT have to wait until we get our little critters… you can schedule today! 
[shareprints gallery_id="3674″ gallery_type="slider" gallery_position="pos_center" gallery_width="width_100″ image_size="small" image_padding="0″ theme="dark" image_hover="false" lightbox_type="slide" titles="true" captions="true" descriptions="true" comments="true" sharing="true"]
Special package pricing will be available by unit for these images and
Your Session Fee is only $39!  Special Pricing:
Unit Options: (1) 8X10, (2) 4×6, (2) 5X7, OR (8) Wallets
* Units with multiple prints are printed from one image.
1 Single Unit: $75
2 Units: $69 ea.
3 Units: $65 ea.
4+ Units: $59 ea.
All other print sizes and products will be available at 15% OFF! 
CALL TODAY TO SCHEDULE!   757-463-3353