Virginia Beach Photoshop Class for Beginners and Intermediate Users
Learn Adobe® Photoshop® from the Pros!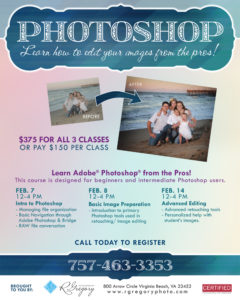 R. Gregory Photography is holding a series of Photoshop workshops taught by a Certified Professional Photographer and graphic artist at our Virginia Beach studio.  Start with the basics and quickly move into retouching and image editing, advanced retouching and personalized help with your own images!
There are three dates/classes to choose from, or take all three at a discounted price!  The cost is $150 per class, or $375 for all three classes.  Call today to register, 757-463-3353
FEB. 7th -- Intro to Photoshop, 12- 4 pm
Managing file organization
Basic Navigation through Adobe® Photoshop® & Bridge
RAW file conversation
FEB. 8th -- Basic Image Preparation, 12- 4 pm
Introduction to primary Photoshop® tools used in retouching/ image editing
FEB. 14th -- Advanced Editing, 12- 4 pm
Advanced retouching tools
Personalized help with student's images.
CALL TODAY TO REGISTER:  757-463-3353